VMware stock price drifts as Broadcom's $61 billion takeover nears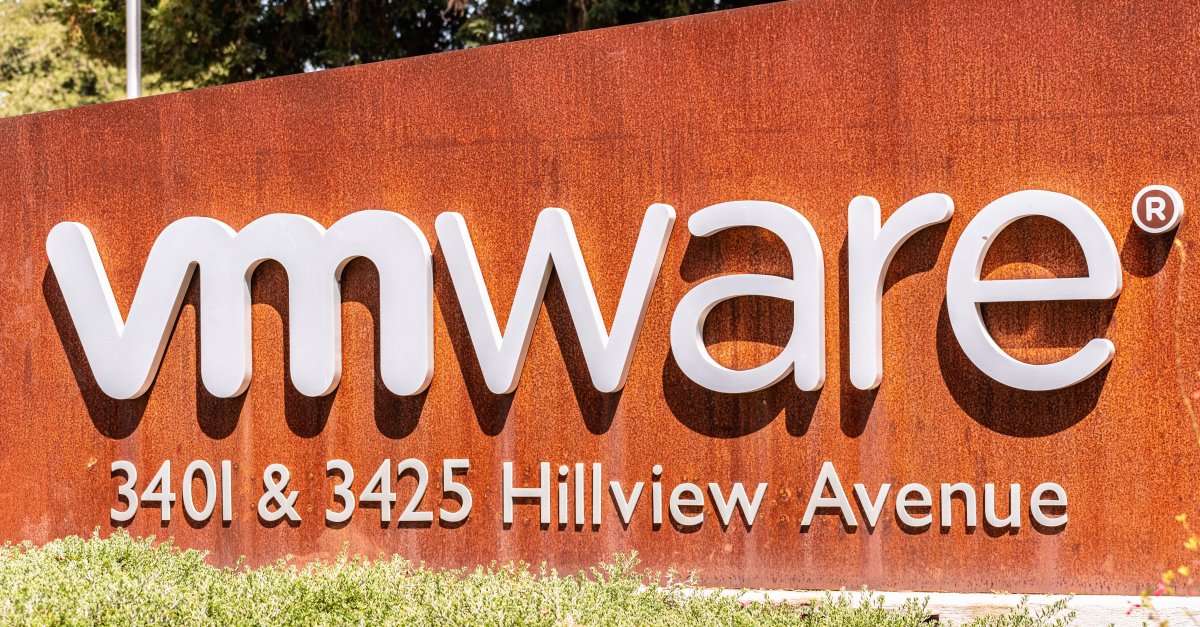 The acquisition of software company VMware (VMW) by technology giant Broadcom Inc (AVGO), which was announced on May 26, 2022, is nearing completion, but the share price of VMware went down. So, is there value in VMW shares?
While no specific date has been agreed, the transaction is expected to close in Broadcom's 2023 fiscal year. vmw the stock price has fallen 4% from $124 to $115 since the acquisition was announced in May.
Broadcom's acquisition of VMware (VMW) was fully completed after Dell Technologies (DELL) divested its stake in VMW in November 2021.
How do you feel about VMW?
Vote to see the sentiment of traders!
VMware (VMW) stock price chart
Solid quarterly results
A multi-cloud service provider for applications, vmw is to be acquired for $61 billion (£50 billion) on May 25, 2022, based on the closing price of Broadcom ordinary shares.
In an interview, CEO Raghu Raghuram said he expected "much of VMware's operations to continue as is," adding that Broadcom would make VMW "a flagship brand."
With the current acquisition but with vmw decline in the stock price in recent weeks, investors might be wondering if there is any value in VMware's stock price right now?
Well, there was good news. On August 25, VMware announced its second quarter results, which were stronger than expected. The company reported net income for the quarter of $347 million, down from earnings reported last year. Revenue rose just over 6% to $3.34 billion.
"We are pleased with our performance in the second quarter. Our momentum continues next week at VMware Explore where we'll showcase innovative new offerings while highlighting how we're helping customers continue to transform their businesses," said Raghu Raghuram, CEO of VMware.
Additionally, analysts polled by CNN Business offered a 12-month price prediction for VMW stock, it has a midpoint target of $142.50 and a high estimate of $143.00, the midpoint estimate represents a increase of 24.05% over the current share price.
That said, VMW's stock price has reached $136.85 this year and at its lowest point it was $91.53, so its stock price has seen significant price movements in course of the last few months.
Analysts at stock market group Simply Wall Street assessed VMW stock in May to see if it was overvalued or undervalued.
"Good news, investors! VMware (VMW) is still a good deal right now according to my multiple price model, which compares the company's price-to-earnings ratio to the industry average," said a Simply Wall Street analyst.
Using VMW's price-earnings ratio, analysts found that the stock ratio of 23.48x is currently well below the industry average of 41.56x. They also found that VMW's stock price is "quite stable."
"This could mean two things: firstly, it may take some time for the stock price to approach its industry peers, and secondly, there may be less chance of buying low at the future once it hits that value. This is because the stock is less volatile than the broader market given its low beta," Simply Wall Street analysts said.
Analysts believe VMW has a positive outlook and it appears that this growth has yet to be factored into its share price.
Broadcom Inc (AVGO) Stock Price Chart
Good and bad news
MarketBeat analysts added more good news to the VMW stock mix saying that despite the IT industry being intense and competitive, VMware (VMW) has carved out a "strong moat" to help it. to differentiate itself from its competitors.
"The company does this through multi-cloud environments, which allow customers to maximize efficiency and cost savings without compromising on security," MarketBeat analysts wrote in a note.
"The result is that VMware offers a 'complete solution' to its customers that simplifies multiple services into a single platform.
Zacks Research analysts offer good and bad news. "Undoubtedly a major positive, VMware shares have provided investors with a solid 2.7% year-to-date return, easily outperforming the broader market."
However: "The Zacks Consensus earnings per share (EPS) estimate of $1.61 reflects an 8% decline in quarterly earnings year over year," said Derek Lewis of Zacks.
Nonetheless, Zacks is still bullish on the stock, saying VMW has "posted market-beating returns not only year-to-date, but also over the past month, indicating that buyers have come out strong." .
Read more